In the last decade, media, marketing, and communications professionals have all witnessed the rise of so-called Big Data. Communication metrics and analytics now inform decisions industry-wide. And data on audiences and channels has become the de facto starting point for how messaging is created, marketed, and managed.
While measuring communication metrics is the standard in external communications, many internal communications professionals have yet to fully incorporate analytics into their work. Reports show that in some regions <50% of internal communications measure their success.

Why the gap?
What are communication metrics . . . and why are they so tricky for IC?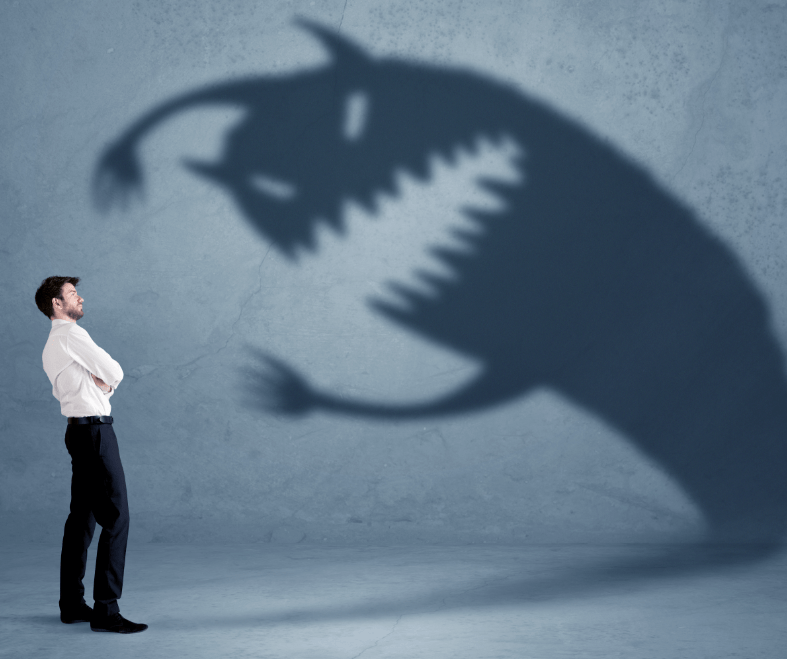 Well, for starters, measuring the effectiveness of an internal communications strategy can seem overwhelming. 
Many IC managers report that they don't doubt the importance of measuring their work. But they often don't feel they have the tools to do so. In a recent study, 47.4% of IC professionals cited insufficient resources as their main challenge in measuring their success.

Even if internal communicators have the time and resources to commit to measuring and analyzing their strategy, they often hit roadblocks like:
How to define communication metrics for success? What are the outputs & outcomes? 
How to consolidate results from various communications channels?
An inability to measure the success of traditional methods like bulletin boards or email newsletters.
Sound familiar?

Despite the challenges, creating a game plan for how to track, test, and ultimately transform communications with the help of data and analytics is also a great opportunity to tangibly prove what those in the industry have known all along: internal communication matters.
Why do internal communications metrics matter? 
In the past years, the ROI of internal communications has received growing recognition partly due to having more available data. Effective internal communications can now be directly linked to higher employee engagement and better business outcomes, including: 
Lower workforce turnover. 
More productivity & profitability.
Fewer safety incidents.
Better relationships with customers.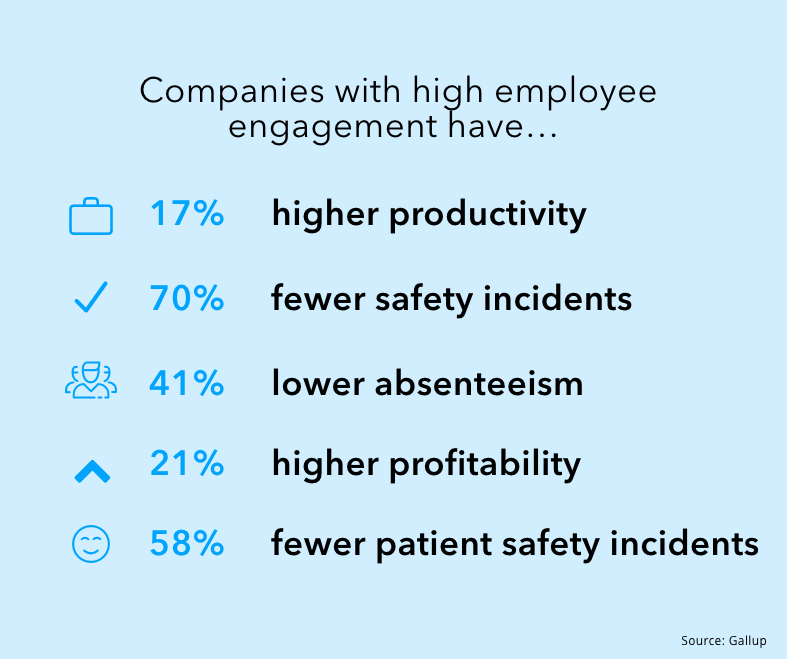 But, to get these outcomes, communications specialists need to prove that their work is actually effective. And that's where internal communications metrics come in.

So, where do you start?
Which internal communication metrics are key?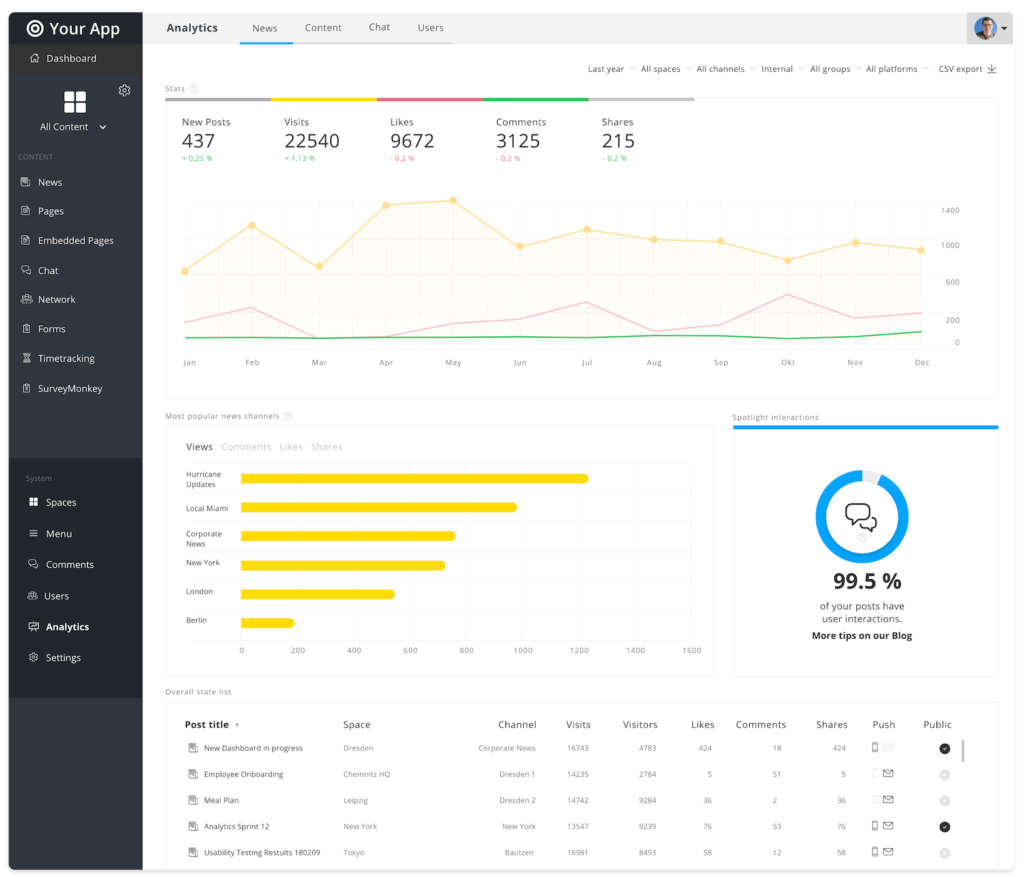 Starting to measure or deepen quantitative insights into your communications can be made a lot simpler with the help of smart software. But it also requires a shift in perspective. While many teams have previously counted how often or how many updates they push out, that's really only giving them half the picture. After all, if a you post a company memo in your intranet but no one actually reads it, does it really exist?
Well, if you were measuring your communications reach, you'd know the answer.
🔑 Internal Communications Metric #1: Reach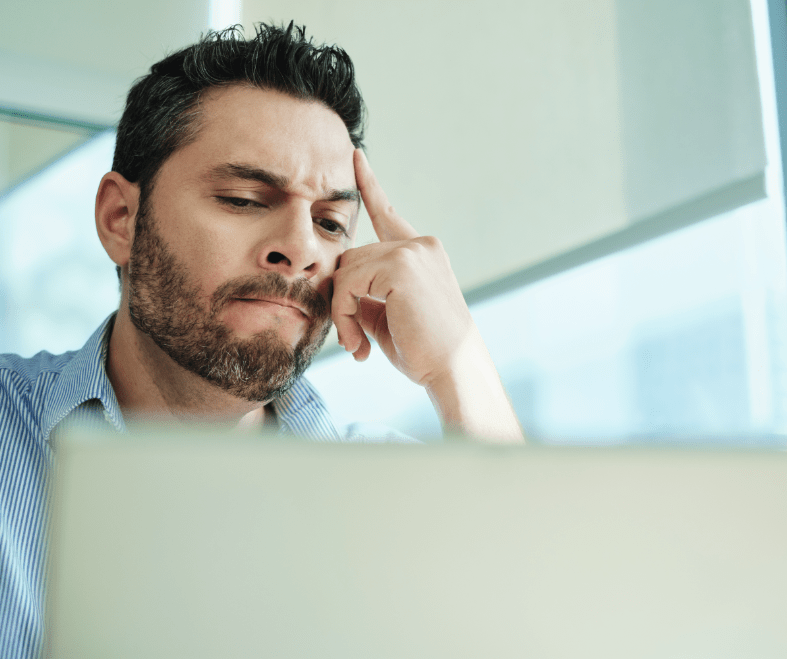 What do we mean by reach?

The modern workforce is increasingly dispersed and mobile. According to one study, 70% of employees "do not work at a desk or have a corporate email address. And among those who do, less than 50% of employees with intranet access log in daily." 

That should be a wakeup call to think long and hard about the channels you use. Whether company intranet, email, employee app or a combined communications approach, ensuring your channels are both accessible to and actually used by employees is the first step in understanding reach. 
1. Channel Adoption
An important place to start understanding your reach is with channel adoption metrics or, more informally, the "How many people are even tuned in, anyway?" number. 
Audit every channel you use to communicate with employees and get the concrete figures on:
The number of employees who have access or have been invited to the channel.
How many have created an account or logged in?
How often are employees returning to your channel on a daily, weekly, and monthly basis?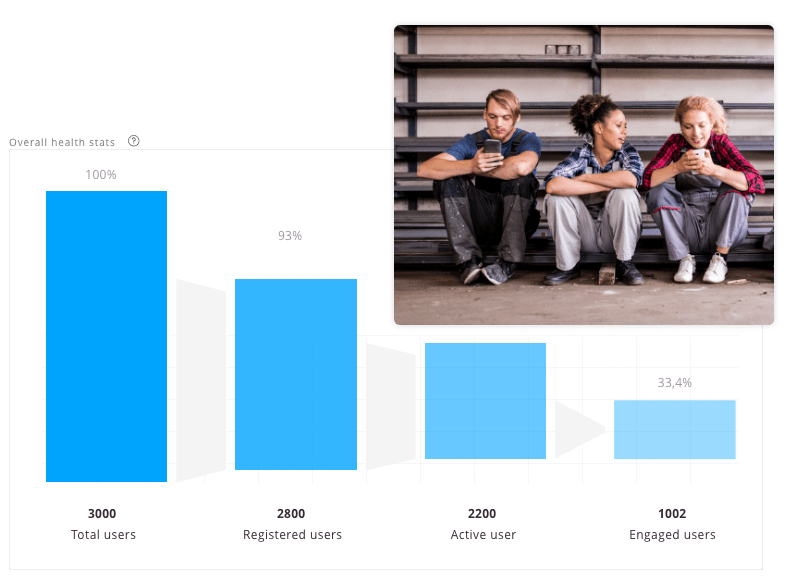 Once you have a baseline for adoption, you can track it over time. You'll then see when and how it changes specifically for which segments of your workforce. 

Pro Tip: If you're still relying on analog or one-sided communications like printed flyers or info boards, this step can also be an opportunity to seriously consider switching to a solution that makes baseline metrics, such as adoption, trackable.
2. Read Receipts & Acknowledgements
Once you have a check on the size and span of your audience across different channels, another important factor to consider is the open rate of your communications. You probably recognize this term from email. But you can apply it to other communications formats like modern intranets and employee apps, too.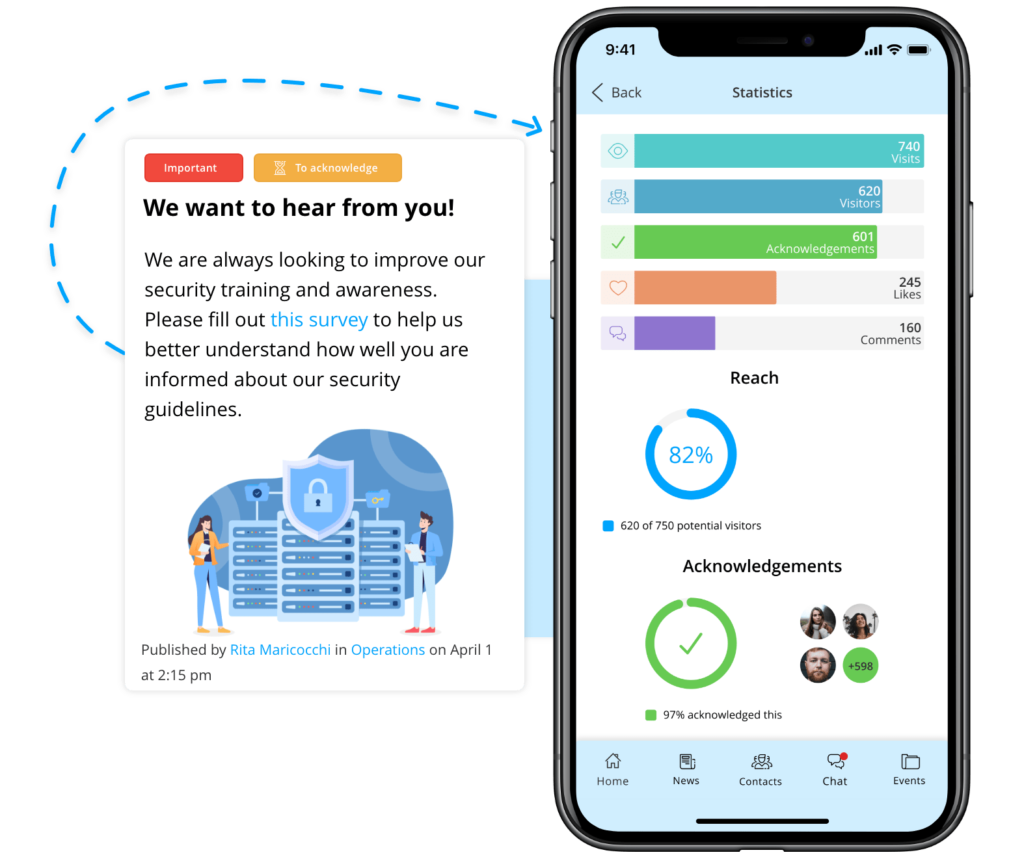 The priority here is to be able to measure more than how many employees have received the message. You want to know if, in fact, they've actually opened it, read it, and followed any further links or calls-to-action. A great way to do this is by using a platform that allows users to "acknowledge" an update or important document. This make it quick and easy for communicators to ensure important announcements have been received. And it also saves a lot of headaches in industries like healthcare, where compliance is crucial.  

Once you know both the size of your potential audience versus the actual amount of visitors, you can easily calculate your communication's reach. This is a fundamental metric both channel-wide and on an individual level for every piece of news or content posted.
Pro Tip: If you're not ready to dust off that statistics textbook, look for communications channels that automatically calculate your reach metrics. 
3. Make Reach Metrics Matter
Understanding your communications' reach isn't just insightful, it's actionable! If numbers are low for certain channels or teams, you can strategize on how to better reach those groups, increase your channel's effectiveness, or know when it's time to start looking for a new solution. 
The first questions to ask include:
Is your channel reaching its intended audience? Maybe company email or traditional intranets aren't the best way to reach workers outside HQ?
Do you need to send your updates at a time that's more convenient for your workforce? Do your employees work shifts, are they on-call or out of the office by 6 pm? 
How are employees hearing of new updates within the channel? Do they get an email or push notification for important news? Are updates snail mail style? Or do they need to be on the lookout for announcements on bulletin boards or rely on trickle-down comms?
Once you have the answers to these questions, you can start to act. Among other possibilities, a proven way to increase reach, especially for non-desk employees, is through the use of push notifications. In fact, employee apps using push notifications are shown to increase reach by over 800%! Modern solutions even allow editors to re-send notifications to employees who overlooked your content the first time.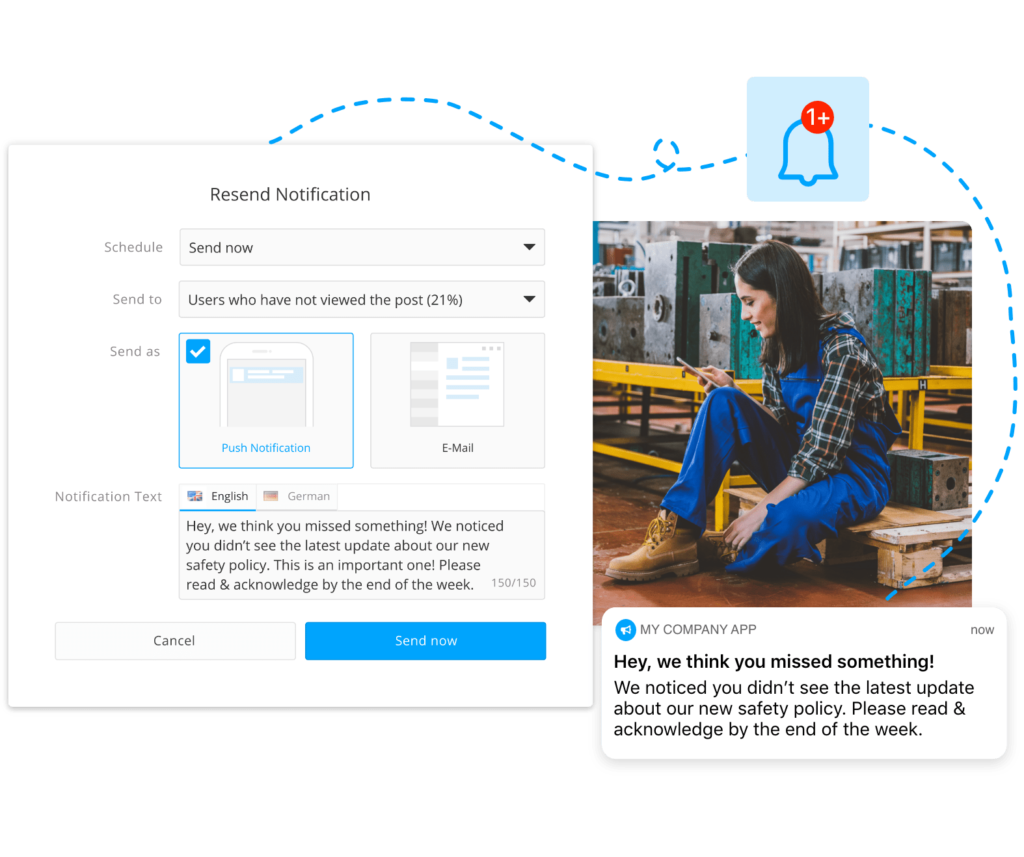 Pretty cool, right? If you want to learn more about these solutions, find additional info here.
🔑 Internal Communications Metric #2: Engagement
So, now you know where and how you can reach your people and who's reading what content. But all of that is still pretty one-sided. Since comms is a two-way street, you also need to keep tabs on engagement.

But, what does employee engagement actually look like?
4. Interaction Rates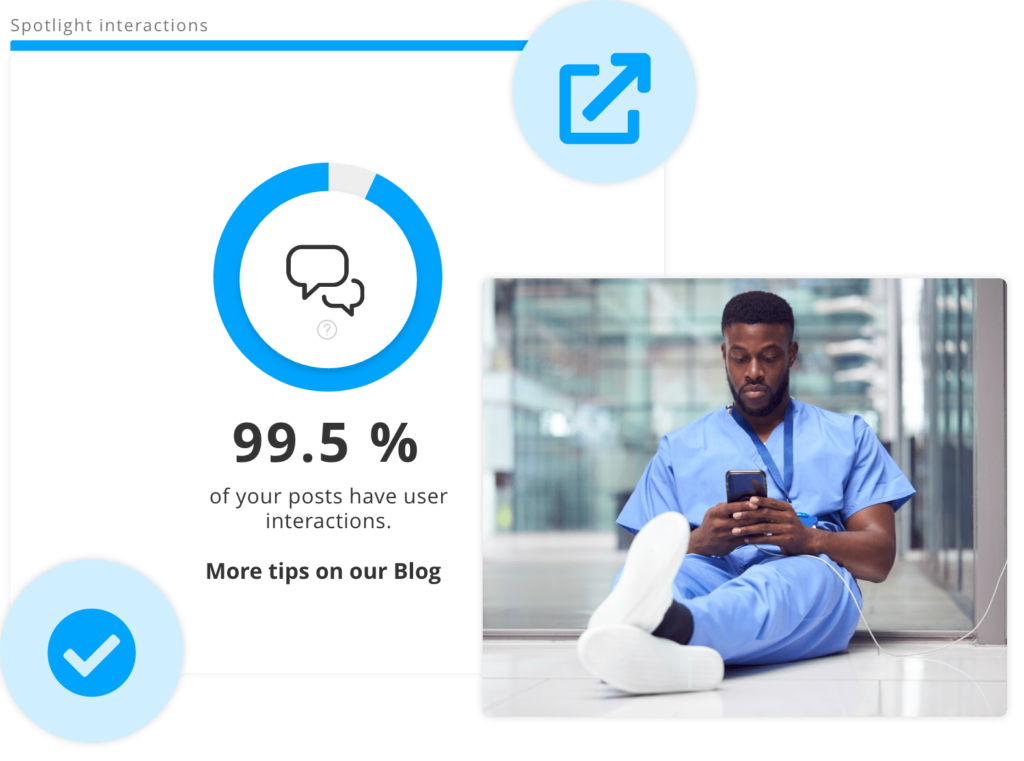 Being able to see, at a glance, how many employees actively interact with content — versus just passively skimming it — is a great barometer for how engaging your communications are to different segments of your workforce at different times. Depending on the channel, interactions can mean anything from clicking a link to commenting or sharing. Make sure any tools you use to track interaction let you filter by segments, time frame, content type and device, to get the most accurate picture.

Having this data on demand can let you tailor your strategy to different teams. And you'll better understand what resonates with which employees. For example, if your in-office employees interact with all your news and content at the same level year-round, but interaction for on-site teams has fallen, particularly for corporate updates, you can immediately pivot your strategy.
5. Employee Response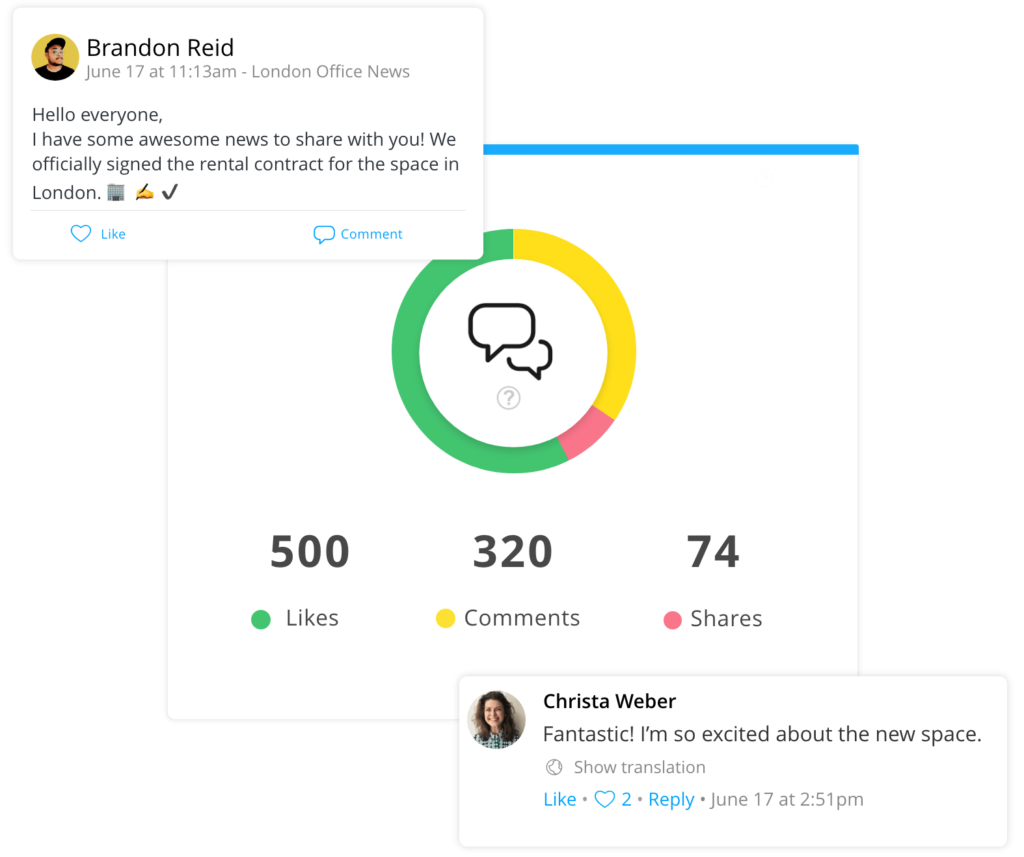 Another tactic for testing whether employees are truly engaging with your company's messages is to gauge not just the number of interactions but also the different types of responses your news and content elicits. 
Anecdotal evidence from around the coffee machine might work for some companies. But the reality is that most internal communicators rarely come face-to-face with all of the employees they communicate with. That's where social-media-inspired responses such as likes, comments, and shares come into play. 
Measuring how many people "liked" the update about the new work-from-home policy or which article received the most comments is the new watercooler conversation. It's also infinitely more measurable. You should also measure how much content employees are producing directly in community or social channels, if applicable. Then you can understand not just how many responses your work is generating but also what sort of culture it's creating.
6. Trends & Timing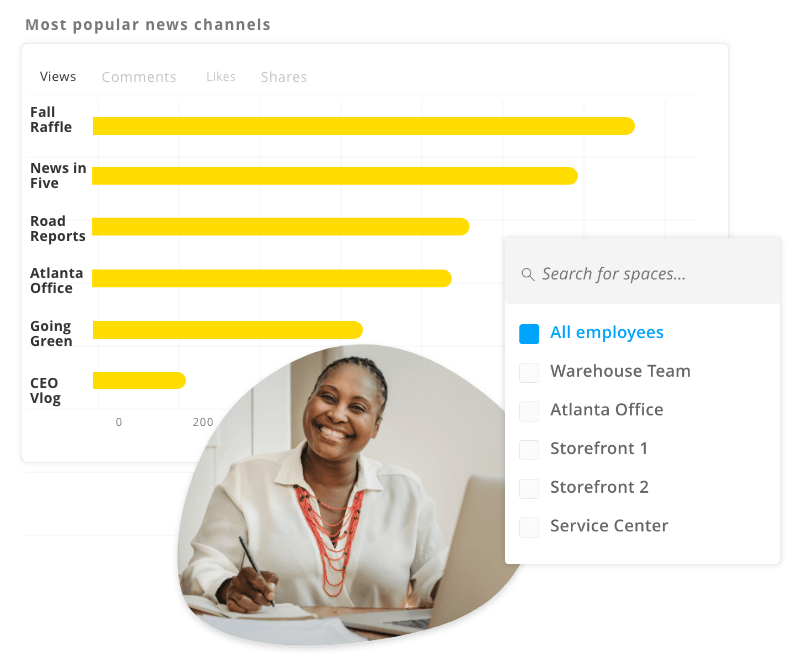 Finally, just like in external communications, understanding which topics interest your audience, which formats they prefer, and which devices are being used to access content is critical to boosting engagement across all communications channels.
Just as you should be able to analyze which channels are reaching which employees, you should also be able to measure within communications channels to see which news feeds or content pieces are clicking with which groups. 
Think of this as classic demographic research that advertisers and marketers do, but for an internal audience. Maybe your Gen Z storefront teams love to watch video updates on their smartphones but your office workers prefer a long read on your corporate sustainability initiative while sitting at their desktop. 
By keeping tabs on content and device trends, you can ensure that your communications aren't just reaching employees, but that they're also matching their preferred channels and resonating with them by being relevant to their daily work.

Pro Tip: You can save a lot of time that you'd normally spend publishing across multiple channels if you use a centralized, multi-channel solution. Read more about that here.  
Maximize Your Internal Communication Metrics
With your reach and engagement metrics in hand, the last step is to analyze the results and incorporate your learnings for further internal communications success.

We've already covered short-term wins, like re-targeting content and re-sending notifications to ensure your message is getting to those who need it. Longer term, reach and engagement metrics are also excellent resources to inform yearly or quarterly editorial planning and keep your content relevant. 
And, of course, these are exactly the kinds of numbers you need to present a killer report to management or back up your department performance review. Modern communications solutions should make it easy to collect and export your results, like with a quick CSV export.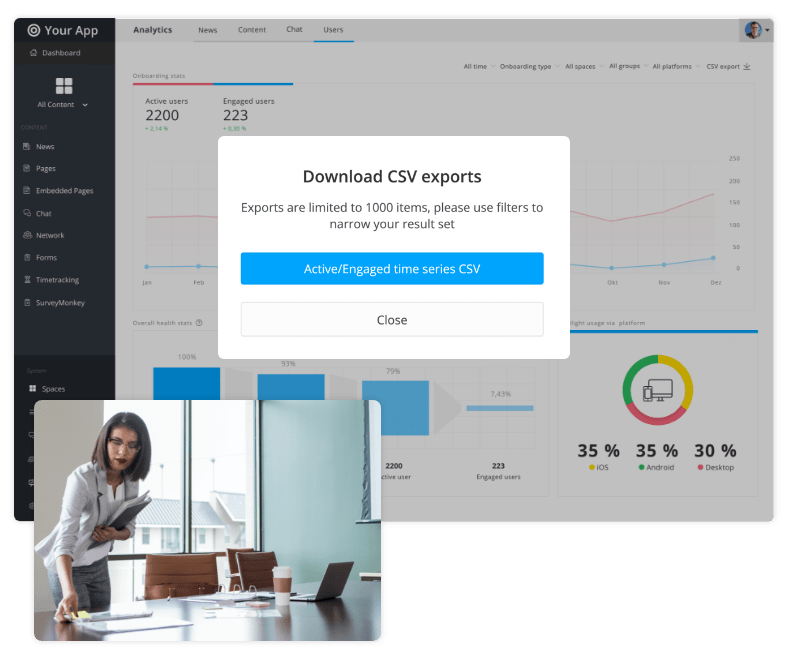 By measuring and connecting your internal comms outcomes to broader business goals, you can show your worth to management in concrete metrics that they understand. In turn, tangible results help you justify a bigger budget or more manpower for your team, underscore the importance of your work, and finally snag you a strategic seat at the executive table.
No More Gut Feelings
Measuring your key internal communication metrics should be a priority for every internal communications professional. And it doesn't need to be a Herculean task. Investing in platforms that do the heaving lifting for you should be a no-brainer. So, you can spend less time trying to collect and crunch the numbers and more time creating effective communications that work towards your strategic goals.

We hope these ideas for measuring your key internal communication metrics were helpful and start you on the path to success! If you're looking for an internal communications platform that makes measuring your success as easy as 1...2...3 and is loved by analysts like Clearbox ("Staffbase analytics are some of the best we've seen across any
platform") have a closer look at the Analytics from Staffbase.
Read more about employee communication best practices: